Posts for: October, 2017
By Timothy P Deahl, DDS
October 28, 2017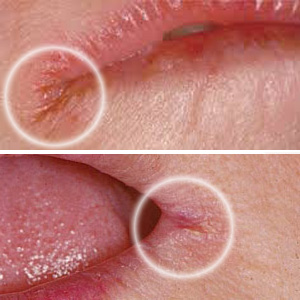 We've all had physical ailments that were more irritating than serious. The problem of skin cracking at the corners of the mouth fits into that category.
Both dentists and dermatologists encounter this condition often and have a name for it: perleche, derived from the French word lecher, meaning "to lick." The term arises from patients' tendency to excessively lick the broken skin to soothe the itching or burning.
Perleche most often arises from certain mouth conditions, although systemic problems like anemia or diabetes may also cause it. Children or younger adults, especially those with orthodontic braces or a tendency to drool as they sleep, often develop perleche; older adults with wrinkling around the mouth are also susceptible. Mouth dryness caused by reduced saliva flow may also irritate the skin and cause discomfort.
As the skin becomes irritated, the person may begin to lick the corners of the mouth to soothe them. This sets up conditions for an infection, most often caused by yeast known as candida albicans. The infection may become more acute and begin to affect the entire inside of the mouth or throat.
If you've developed perleche, our primary treatment goal is to reduce any infection with the aid of oral or topical antifungal drugs. One drug, Nystatin, is often taken as a lozenge that dissolves in the mouth and works its way from there through the rest of the body. You can also apply antifungal ointments several times a day to the corners of the mouth, often in combination with steroid ointments that reduce redness and swelling. You can also apply antifungal zinc oxide paste to the cracked skin, which also serves as a barrier between the skin and outer contaminants.
To reduce the chance of future outbreaks, we may recommend you rinse with Chlorhexidine, as well as replace missing teeth or refit loose dentures — these too are contributing factors to erupting yeast infections. You might also need to undergo dermatologic treatment for wrinkles if they've proven to be a factor in developing perleche.
Although not a major problem, perleche can be exceedingly uncomfortable and embarrassing. Thanks to a number of treatment options, you don't have to put up with that discomfort for long.
If you would like more information on perleche (angular cheilitis), please contact us or schedule an appointment for a consultation. You can also learn more about this topic by reading the Dear Doctor magazine article "Cracked Corners of the Mouth."
By Timothy P Deahl, DDS
October 13, 2017
It's hard to avoid stress in the 21st Century. We're all bombarded with stressors, from work to family — even our smart phones!
The problem really isn't the stressors themselves but how we respond to them and try to relieve stress. This can often have a negative effect on our health. One example: bruxism, also known as teeth grinding or clenching.
These habits involve the rhythmic or spasmodic clenching, biting or grinding of the teeth, often involuntarily, beyond normal chewing function. It often occurs while we sleep — jaw soreness the next morning is a telltale sign. While there are other causes, stress is one of the most common for adults, bolstered by diet and lifestyle habits like tobacco or drug use, or excessive caffeine and alcohol.
Teeth grinding's most serious consequence is the potential for dental problems. While teeth normally wear as we age, grinding or clenching habits can accelerate it. Wearing can become so extensive the enamel erodes, possibly leading to fractures or cracks in the tooth.
When dealing with this type of bruxism, we must address the root cause: your relationship to stress. For example, if you use tobacco, consider quitting the habit — not only for your overall health, but to remove it as a stress stimulant. The same goes for cutting back on your consumption of caffeinated or alcoholic drinks.
Adopt an "unwinding" pattern at night before you sleep to better relax: for example, take a warm bath or keep work items or digital media out of the bedroom.  Many people also report relaxation or stress-relief techniques like meditation, mindfulness or biofeedback helpful.
There's another useful tool for easing the effects of nighttime teeth grinding: an occlusal guard. This custom-fitted appliance worn while you sleep prevents teeth from making solid contact with each other when you clench them. This can greatly reduce the adverse effects on your teeth while you're working on other stress coping techniques.
Teeth grinding or clenching can prove harmful over time. The sooner you address this issue with your dentist or physician, the less likely you'll experience these unwanted consequences.
If you would like more information on the causes and treatments for teeth grinding, please contact us or schedule an appointment for a consultation. You can also learn more about this topic by reading the Dear Doctor magazine article "Teeth Grinding: Causes and Therapies for a Potentially Troubling Behavior."